Order Guarantee

Valid & Authentic Tickets

Delivery in time
Cheap & Competitive

Secure & Safe Transaction

Customer care team
Welcome To The Electrifying EL Clasico
Geplaatst 1238 dagen geleden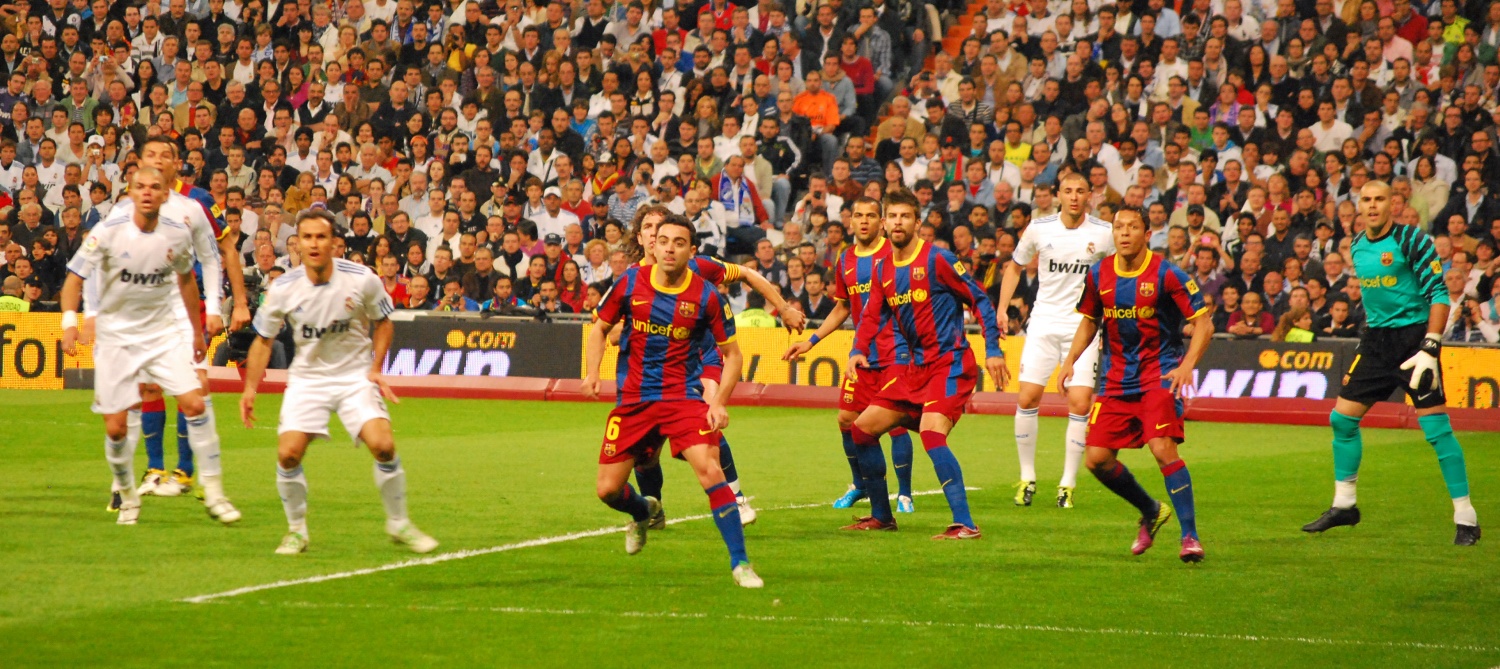 Spanish giants, Real Madrid and Barcelona, face off yet again in a game that is billed to be another epic El Clasico. Barcelona travels to the Bernabeu on the 3rd of March 2019 to face off with the Los Blancos.
Tagged the El Clasico (The Classic), the biggest match in Europe has seen both Barcelona and Real Madrid enjoy mixed fortunes. And whenever these teams meet up in any competition, locally (La Liga, Copa Del Rey) or in Europe (UEFA Champions League), the game is always a memorable one for both teams.
Real Madrid and Barcelona are Spanish biggest teams. But, they are also the most decorated teams on the continent, and in the world with hundreds of local, continental and international trophies between these teams.
Real Madrid Football Club
Real Madrid Club de Futbol was founded on March 6, 1902, as the Madrid Football club. The word Spanish word "real" means "royal" in English and then Spanish king, Alfonso XIII conferred the rights to the club along with the royal crown emblem.
Madrid is among the most strongly supported teams in the world. Real Madrid's home ground, the Santiago Bernabeu has been home to them since 1947; with a capacity of 81,044 seats.
Real Madrid is one of the founding teams of the La Liga, and alongside Athletic Bilbao and Barcelona has never suffered relegation from the Spanish La Liga.
Real Madrid's Trophy cabinet
In the 1950s, Madrid was a very dominant force in Europe as well as in the Spanish league; 5 consecutive Leagues and also five consecutive European Cup win asserted Reals dominance on world football.
The 50s team is considered the Madrid's greatest team of all time; the team includes legends, Alfredo Di Stéfano, and Ferenc Puskás.
Madrid has won 33 La Liga titles, 13 UEFA champions league titles, 2 UEFA Cups, 4 UEFA Super Cups, and a record 7 Club world cup trophies.
Other titles include 19 Copa del Rey, 10 Supercopa de España, 1 Copa Eva Duarte, and 1 Copa de la Liga.
Real Madrid currently ranks first on the UEFA club rankings.
Madrid Cultural Dos and Don'ts You Should Know
Do visit the Cava Baja; A gallery in the city of Madrid that showcases the beauty of Madrid and also has bars where different Spanish and intercontinental drinks may be gotten.
Don't get too comfortable dangling your camera around your neck. Carry it in a bag for security purposes

Do explore the Mercado San Miguel Neighbourhood – there is definitely a lot to see and do in this fun neighborhood
Barcelona Football Club
Futbol Club Barcelona, Barcelona's professional football club was founded on November 29, 1899.
Founded by a group Catalan, English, and Swiss footballers led by Joan Gamper, the club with motto "Mes Que un club" that translates into "more than a football club" has become a major symbol for Catalanism across Spain.
Being one of the most supported teams in the world, Barcelona has one of the highest social media following; and has the Camp Nou as its home. The Camp Nou has a capacity of 99,354 seaters.
Barcelona's Trophy Cabinet
Barcelona, one of the most decorated teams in the world, has won about every competition there is; in Spain, in Europe, and the world.
Between 2011 and 2015, under the Management of Catalan, Pep Guardiola, Barcelona won 14 trophies, completing a treble twice within that four years. This team is considered the greatest ever Barcelona team; it included Xavi, Iniesta, Messi, Samuel Etoo, Carles Puyol and a host of others.
Total trophy count includes: 25 La Liga titles, 5 UEFA champions league, 4 UEFA Cup winners, 5 UEFA Super Cup winners and 3 Club World Cup winners.
Other trophies won by Barcelona includes 30 Copa Del Rey, 13 Supercopa de España, 3 Copa Eva Duarte, and 2 Copa de la Liga trophies.
They currently rank second on the UEFA club rankings.
Barcelona Cultural Dos And Don'ts You Should Know
Never forget to move around with your photo ID and credit card – You could get great deals when you shop or buy food in the city using your credit card. Spanish law does, however, require that identification is provided at the point of use.

Do visit Barcelona churches, but don't wear a sleeveless top or a short – The Spanish are rather religious. They have churches that would be considered architectural masterpieces. But when you go, show respect
The Epic El Clasico Rivalry
Just as every derby has off-field political undertones to it, the El Clasico does too. Real Madrid is generally perceived as the team that represents Spanish nationalism while Barcelona has never been silent about representing Catalan nationalism.
The 2 most successful teams in Europe; the two teams with the largest Social Media fan base; top 2 most valuable sports team on Forbes as at 2014; top 2 highest ranked UEFA teams the list goes on and on. Barcelona and Real Madrid are at each other throats not just in Spain, but on the world scene.
Awesome El Clasico Statistics
Madrid and Barcelona have met a total of 238 times (competitive and non-competitive matches). Barcelona is overall winners with a total of 113 wins as compared to 99 Madrid wins. Only 26 matches have ended in draws

Real Madrid's Manolo Sanchis featured in 43 El Clasico Matches, the most by any player.

Lionel Messi has scored a total of 26 goals against arch-rivals Madrid. The highest by any player in the El Clasico

Madrid has the biggest El Clasico win against Barcelona. The June 19, 1943 Copa Del Rey fixture ended 11-1 in favor of Madrid.

Between 25 January 1948 and 15 January 1949, Barcelona had its longest winning streak in the Clasico. They recorded six back to back wins over the Los Blancos

From 30 September 1962 – 28 February 1965 Madrid had its own winning streak against the Blaugrana; they also recorded six back to back wins against Barca.

18 Clasico matches between 25 January 1948 and 21 November 1954 didn't end in a draw. A winner always emerged.

The longest undefeated fun came for Madrid during the 31 January 1931 – 3 February 1935 period. Barcelona was unable to get a win over their rivals during this time.

Javier Saviola was the last player to transfer between the two rivals, in 2007.
Managers Of Both Teams
Miguel Munoz holds the record as the most successful Real Madrid Manager. He won 9 La Liga titles, 2 Copa Del Rey, 2 UEFA champions' league and 1 Intercontinental cup trophy. He also doubles as Madrid's longest serving coach

Josep Guardiola is Barcelona's most successful coach. Asides winning 14 trophies in 4 years, he introduced the tiki-taka, a playing technique Barcelona used in dominating the world.
Wrapping It Up
There is no love lost between fans of Barcelona and Real Madrid. At the slightest provocation, an El Clasico match could easily descend into a very physical matchup. Let's all hope for a friendly, fun atmosphere.
The rivalry was fiercest during the José Mourinho era; there was hardly a match-up of these teams in that time that did not end up in physical violence.