Order Guarantee

Valid & Authentic Tickets

Delivery in time
Cheap & Competitive

Secure & Safe Transaction

Customer care team
Valencia v Real Madrid: One Of The Best La Liga Match-Ups
Geplaatst 1227 dagen geleden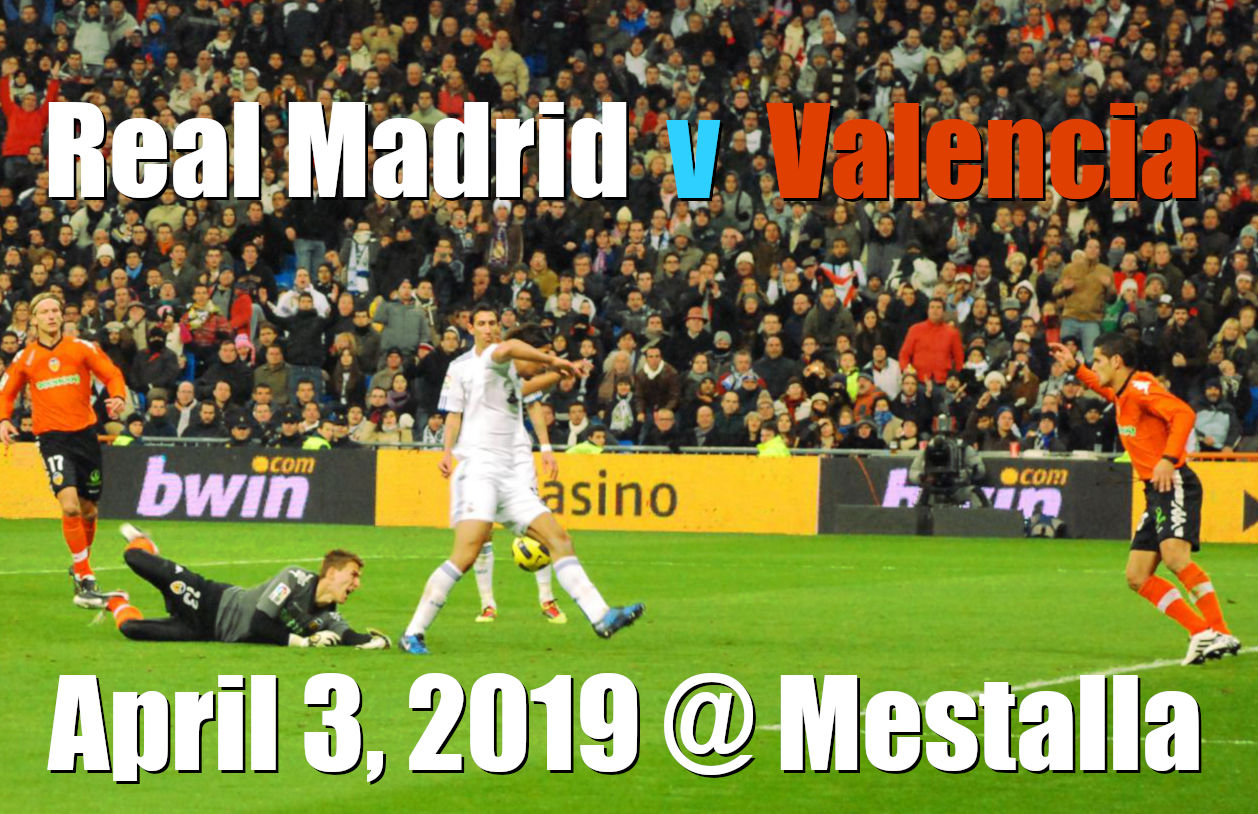 Clash of Two Spanish Football Giants
The clashes that regularly occur between Valencia and Real Madrid are what die-hard La Liga fans live for. These clashes are as highly rated as the games themselves, in every La Liga season.
Real Madrid fans and Valencia fans are of course looking forward to the upcoming match between the two teams. They will play their upcoming La Liga match at Mestalla on the 3rd of April 2019.
These teams are so popular, that even some of their best fans only know the teams by name and what they see of them in televised matches. They have no idea about so many of the most interesting facts about the two teams. This article is a guide to knowing more about Real Madrid as well as the Valencia football team.
Previous Head-To-Head Matches
Both teams have played in roughly forty-six matches so far with Valencia winning nine, and as expected, Real Madrid won twenty-six of them. As for the remaining eleven matches, those ended in draws.
Interesting coincidence: Placing the two teams averagely, both of them have scored 3.17 goals per each match played. In actual seasons, Valencia scored an average of 1.24 goals in all matches.
For about fifteen of their matches, i.e., 75.00%, that were played at home, the full goals were over 1.5. For eight matches, i.e., 40.00%, there was a total of 2.5 goals.
Meanwhile, Real Madrid's average score per match is 2.09 goals. In eighteen, i.e., 81.82% matches that were played away, they scored a total of roughly 1.5 goals. And in fifteen, i.e. 68.18% matches played away; they had total goals of roughly 2.5.
However, bear in mind that both teams have highly loyal fans all over the world. It should not come as a surprise to longtime observers that punters have already started placing wagers ahead of their match on the 3rd of April.
A Bit About Real Madrid
The prominently known Real Madrid is rated as one of the world's most talented football teams. Surprisingly, the reputation has been maintained for many years, and continues to be strong today. Their success in every match is mostly attributed to the big talents they have successfully recruited.
It would be impossible to write about Real Madrid for any significant length without at least a cursory mention of their legendary players Alfredo Di Stefano and of course Cristiano Ronaldo.
Asides being arguably one of the best teams around the world, there are actually interesting facts you would love to know about this legendary team. Also, you might as well just fall in love with the team more and more.
Interesting History Of Real Madrid
They are known as one of the three top clubs in the history of Spain. And their popularity is because they have never been relegated from the top flight of La Liga.
It would interest you to know that Real Madrid has won five consecutive Last Liga titles. They are the only club in Spanish football history to have done this. And more remarkably, they accomplished this stunning sporting success, twice.
With the first five straight titles won between the years of 1961 and 1965, Real Madrid repeated the feat between the years of 1986 and 1990.
Quick question: Are you aware that Real Madrid was once voted by FIFA under the title of "most successful club of the 20th century"?
Unforgettable Match: "The match that can never be forgotten" was between Real Madrid and FC Barcelona, and occurred in the year 1943.
In this Match, Real Madrid defeated Barcelona with a whopping 11-1 victory. And that was after Real Madrid had just lost a previous match, 3-0.
So now you know a little more about Real Madrid. And what about Madrid itself?
Cultural Trends In Madrid
It is worthy to note that Madrid is not just a capital city, it is also known as the biggest city in the whole of Spain. Madrid is located on the Manzanares river that passes right through the center of the country.
Madrid, and Spain in general, are considered popular holiday destinations. That's especially true for Brits going abroad on holiday.
Interested in knowing more facts about Madrid? Then keep reading.
While there are diverse explanations available over the years about how the name Madrid was chosen, its citizens have decided to stick with the explanation that is highly trusted in local lore.
This explanation is roughly 2,000 years old going by the Arabic documentations. The old names of Madrid were Magerit or Mayrit. They actually mean place of abundant water. And from there, it developed to Madrid.
If you never knew what the official symbol of Madrid was, then read it up here. Madrid's symbol is known as El Oso y El Madrono and this simply means The Bear and The Strawberry Tree. The current symbol has been official since 1982.
It was recorded years ago that bears were always seen walking around Madrid and even pass through the limits in the city.
Madrid is known to have the most beautiful and dramatic sunsets. In the whole of Europe, Madrid enjoys the most cloudless days, which is about two hundred and fifty days a year, on average.
What You Didn't Know About Valencia
The Valencia football club stands tall with six La Liga championship titles, four diverse European trophies and seven Copa del Reys. Among their accomplishments, they are the third most prominent club. Valencia is rated just behind both Real Madrid and FC Barcelona.
Valencia's reputation is aided by its football academy for youths. This academy is referred to as the world's best training ground for the young football talents.
A long time ago, Valencia badly lost on two champions league finals to both Real Madrid and Bayern Munich respectively. They once fell to the fifth position in La Ligas just after they had spent major parts of the season at the top.
However, they got back into the winning spirit within the next four years. They won two La Ligas back in 2002 and also 2004. The also won a UEFA cup in the year 2004.
Interesting Facts About Valencia Club
Valencia is the third most successful club in Spain. We all know the first two right? They got their most recent title under the guide of Rafael Benitez back in the year 2004. They also won Inter Cities Fairs Cup twice.
Valencia defeated Arsenal back in 1989 to win the European cup. Remember the European cup? Valencia is well known for getting to the champions league final in different seasons. They reached this status under the leadership of their head coach, Hector Cuper.
And now that you hopefully know more about the Valencia club , here are some interesting insights about Valencia itself.
The Culture In Valencia
The city of Valencia is the capital of the Province of Valencia. Also, it is rated as the third biggest city in Spain right after Barcelona and Madrid. This amazing city is situated on the Mediterranean Sea.
Their Coat of Arms, depicted here, has a bat perched atop the central crown. That feature is Ratpenat (the Crest of the Bat). As it happens, Ratpenat is a heraldic symbol of the former Crown of Aragon. Additionally in Valencia's Coat of Arms, there are two smaller crowns, each below and equidistant from the larger top crown. And the smaller crowns each sit atop a large L. And in between the two Ls, there is a square diamond with vertical yellow and red stripes. And there is a green laurel leaf crown triumphantly supporting the symbol.
Valencia has a beautiful culture, nightlife scenes, and foods. Its economy leads in Spain, and they are known for generating things such as;
Metals

Chemicals

Automobiles

Toys

Azulejos

Textiles, and so on.
Their products are all exported to diverse cities around Spain and also to countries around the world. Valencia's name came from Valentia and this means bravery, strength and valor in Latin.
Did You Know? The citizens of Valencia are either called Valencian people or Valencianos.
To Wrap It Up
For fans of both teams, the long historical football battle between the first and third largest cities in Spain are always great and intense; be it on the pitch or off the pitch. So many stars have gone on to represent the two clubs over the years. The fans always see their matches as a must win.
What do you think of the upcoming match between these two major rival teams? Who, if anyone, will you be rooting for? Will you be attending the match? Watching it on a screen? Let us know in the Comments below.