Order Guarantee

Valid & Authentic Tickets

Delivery in time
Cheap & Competitive

Secure & Safe Transaction

Customer care team
Manchester City Vs Watford : For The FA Cup
Geplaatst 1168 dagen geleden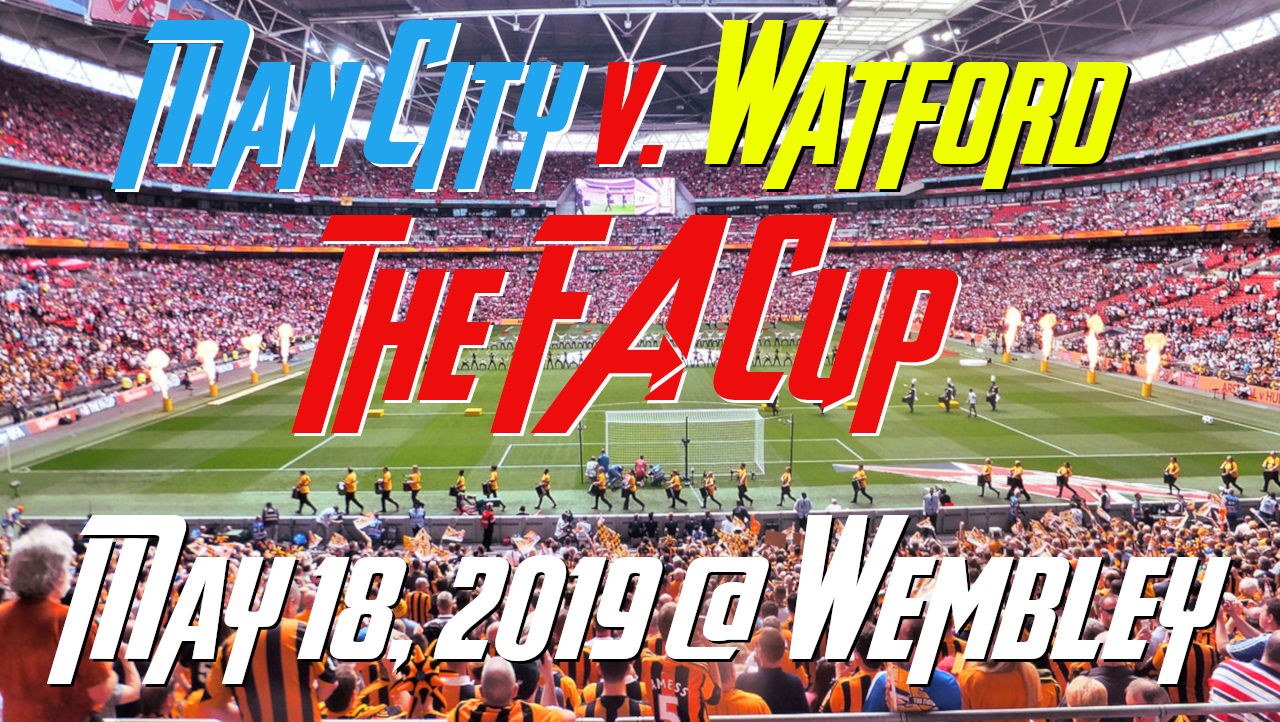 Manchester City Vs Watford; You Don't Want To Miss This
It is most undoubtedly a delight for football fans who eagerly and patiently await the upcoming match between Watford and Manchester City. For lovers of football and fans alike, this match will be taking place on the 18th of May, 2019 at Wembley Stadium. As usual, we are here for it, for those who will watch it on a screen, and even more so, for those who will be there in person, lucky enough to have tickets to see Manchester City v. Watford play this historic championship match.
Similar to Serie A, La Liga and other diverse leagues in the football universe, this upcoming match is for the FA Cup.
As expected with football, there are various top rated and high profile football clubs scattered all over vying for this intriguing cup. For this year 2019, it will not come as a surprise that people have started betting on the team that would go home with the cup.
Will it be Manchester City? Or will Watford walk away as winners? We are here to see how all the action on the pitch unfolds on match day.
Meanwhile, some of us are only aware of these clubs by their names and some of the titles they have won in times past and have never taken the time to know other facts about them.
Luckily for you, we have you covered with all sorts of interesting facts and recommendations especially for anyone visiting the host city, in this article. All you need to do is sit back, relax, and happily read on.
Of course, as this match will be at Wembley Stadium, you'll actually find this handy guide useful on match day, and even more at other matches, when the teams play in their home turfs.
Let's Talk About Manchester City A Bit
The rise of Manchester City to the top spot of the English football has been a dream or rather fairy tale for their fans. Not forgetting the fact that this same club was in a pretty bad position roughly fifteen years ago.
Meanwhile, some of the interesting facts about them include;
The name of the club was not always known as Manchester City. Their first name back in 1887 was Ardwick Association Football Club. This name stuck with them for seven years. It was not until 1894 they were renamed Manchester City.

In the season of 1957-1958, Manchester City tried their best in scoring about 104 goals and also conceded about 100.

Back in 1906, seventeen of their players were under suspension as a result of monetary regularities. This affected the club badly and led to them finishing off at the seventeenth position in the league

John Burridge currently holds the record of being the oldest known player to play in the premier league. He was forty-three years old when he took the position of a substitute.
In the season of 1937-38, Manchester City turned out to be the only club that was relegated from the premiership with a positive goal difference, i.e. 80-77.
Now, What About Watford Football Club?
This is a professional football club that is situated in Watford, Hertfordshire, England. They are also players in the premier league and they are at the highest level when it comes down to the English football league system.
It was established in 1898 via the amalgamation of Watford St. Mary's and West Herts. They joined the football league all the way back in 1920 after finishing the 1914-15 season as the southern league champions.
Meanwhile, there are some interesting facts to know about Watford. They include;
Its name back in 1881 was Watford Rovers before changing, being renamed to West Hertfordshire and finally landed as Watford in the year 1898.

The color of their kit was historically blue and white, but in 1959, they changed to black shorts and gold shirts. However, a red splash was introduced in 1976, and then the shirt was changed to yellow.

Did you know that Watford march on to the pitch to the theme song of Z-cars from the prominent show Z-cars? That's something you can really only experience at its fullest, when you're there in person.

Both Arsenal and Watford have their training grounds adjacent in order to constantly keep watch over each other, remaining separated by only a simple fence. How's that for competitive motivation?
Luther Blisset is the player having the most appearances for the club. However, Blisset left Watford to AC Milan in 1983. Then, he came back again to Watford and went once more to Bournemouth. And guess who dropped by at Watford a third time? That's right. It was none other than Blisset!
Have You Heard Of Wembley Stadium?
The upcoming match between Manchester City and Watford will be played at the prominent Wembley stadium. Interesting facts about this stadium is that;
It was built with roughly £800m

The stadium can seat 90000 people, and it is also so massive that approximately 25000 buses can be parked in it.

Wembley stadium's food, drink and other catering needs are serviced by no less than a whopping 98 kitchens.
In order to make sure the environment and atmosphere of the stadium were adequate, and its prominent Wembley roar was highly conserved, the seats in the stadium were uniquely structured to be physically situated as close to the action as possible. So when you're there, be sure to let 'em hear you roar!
What You Didn't Know About Manchester - The Home Team
There is everything to love about Manchester. Asides from being the second biggest city in the United Kingdom just after London, it is often regarded as the globe's football mecca.
The city is home to the world's prominent Curry Mile, and it's also famously the home of the very well known rock group, Oasis. Amazingly, the first electronic stored-program computer was built at Victoria University of Manchester, England, by Frederic C. Williams, Tom Kilburn, and Geoff Tootill. Its first program running successfully on 21 June 1948.
A proud history and highly thriving culture, Manchester has a lot to offer to everyone visiting.
For vegetarians, Manchester is your birthplace. It was in a tiny chapel the meat-free diet started over two hundred years ago.
You should note that Manchester is the world's first industrial city with a wealthy industrial heritage having the nickname Cottonopolis far back in the 19th century.
Also, Manchester actually started the industrial revolution, and it turned out to be a center for the textile industry.
Exciting Facts About Watford – The Away Team
The town of Watford was created in the year 1894, all thanks to Queen Victoria. She only had it in mind to build a Summer retreat for herself.
Watford's population is roughly eighty thousand, and even when adjoining areas are added in to the population estimates, it does not surpass 120,000. Amazingly, it is only the 47th most populous urban area in England, despite being home to such a world class Premier League football club.
For football fans who are also J.K. Rowling fans visiting Watford, this is your grand opportunity to pay homage to the Harry Potter Warner Bros, Studio.
And for anyone who loves a walk among the grass and trees, don't forget Cassiobury Park! The park is spread across 190 acres of open grass and woodland. There is also a nature reserve. And the park features sports facilities, plus attractions for kids, which is great if you are bringing any along with you for the match and you're looking for fun family friendly things to do in town.
Final Score
You should know that in addition to being the hometowns of two of the greatest English football teams, both Manchester City and Watford are considered to be among the major cultural centers around Europe, not just the UK. Regardless of which side you root for, or even if you're a football fan who does not root for either side, this great match should not be missed.
While no mere observer can decide who will win, we can all hope for an excellent match, and that the best team gets to go home with their well-deserved victory. And for the fans in attendance, win or lose, they will hopefully all enjoy a wonderful match, cheer their favorite side with their full hearted spirit, and enjoy the event, whose memories they will likely cherish for a lifetime.